[et_pb_section bb_built="1″ fullwidth="on" specialty="off" next_background_color="#000000″][et_pb_fullwidth_slider _builder_version="3.21.4″ text_shadow_style="preset1″ z_index_tablet="500″][et_pb_slide _builder_version="3.21.4″ heading="California State Licensed Traffic School Course" button_text="Enroll Now!" button_link="https://nationaldts.com/course/content/page/userfront_register/item/1″ url_new_window="on" link_option_url_new_window="on" background_color="#7ebec5″ use_background_color_gradient="off" background_color_gradient_start="#2b87da" background_color_gradient_end="#29c4a9″ background_color_gradient_type="linear" background_color_gradient_direction="180deg" background_color_gradient_direction_radial="center" background_color_gradient_start_position="0%" background_color_gradient_end_position="100%" background_color_gradient_overlays_image="off" parallax="off" parallax_method="on" background_size="cover" background_position="center" background_repeat="no-repeat" background_blend="normal" allow_player_pause="off" background_video_pause_outside_viewport="on" use_bg_overlay="off" use_text_overlay="on" text_border_radius="3″ alignment="center" child_filter_hue_rotate="0deg" child_filter_saturate="100%" child_filter_brightness="100%" child_filter_contrast="100%" child_filter_invert="0%" child_filter_sepia="0%" child_filter_opacity="100%" child_filter_blur="0px" child_mix_blend_mode="normal" background_layout="dark" text_shadow_style="none" header_text_shadow_style="none" body_text_shadow_style="none" custom_button="off" button_bg_use_color_gradient="off" button_bg_color_gradient_overlays_image="off" button_use_icon="on" button_on_hover="on" button_text_shadow_style="none" box_shadow_style_button="none" hover_transition_duration="300ms" hover_transition_delay="0ms" hover_transition_speed_curve="ease" text_shadow_horizontal_length="0em" text_shadow_vertical_length="0em" text_shadow_blur_strength="0em" header_text_shadow_horizontal_length="0em" header_text_shadow_vertical_length="0em" header_text_shadow_blur_strength="0em" body_text_shadow_horizontal_length="0em" body_text_shadow_vertical_length="0em" body_text_shadow_blur_strength="0em" button_text_shadow_horizontal_length="0em" button_text_shadow_vertical_length="0em" button_text_shadow_blur_strength="0em" bg_overlay_color="rgba(0,0,0,0.39)" text_overlay_color="rgba(0,0,0,0.39)" header_font="ABeeZee||||||||" body_font="ABeeZee||||||||" background_image="https://nationaldts.com/wp-content/uploads/2019/06/California-Traffic-School.jpg"]
NationalDTS, a California DMV Licensed Driver Education Course Provider, offers the Traffic Violator Course you need
[/et_pb_slide][/et_pb_fullwidth_slider][/et_pb_section][et_pb_section bb_built="1″ fullwidth="off" specialty="off" prev_background_color="#000000″ next_background_color="#000000″][et_pb_row][et_pb_column type="1_2″][et_pb_image _builder_version="3.21.4″ z_index_tablet="500″ src="https://nationaldts.com/wp-content/uploads/2019/06/Traffic-school-online.jpg" /][/et_pb_column][et_pb_column type="1_2″][et_pb_text _builder_version="3.21.4″ z_index_tablet="500″]
California Traffic School Online.
The Course You Need.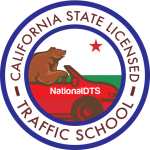 Our traffic school course is licensed by the State of California!
Our traffic school online course is available for students who have received an eligible citation in California and wish to complete their required defensive driving course from the comfort of their own home. You can work on the course when you want and move at your own pace!
Traffic School Course Fee $19.95!
[/et_pb_text][/et_pb_column][/et_pb_row][/et_pb_section][et_pb_section bb_built="1″ fullwidth="off" specialty="off" prev_background_color="#000000″ next_background_color="#f5f5f5″][et_pb_row][et_pb_column type="4_4″][et_pb_testimonial _builder_version="3.21.4″ quote_icon_background_color="#f5f5f5″ z_index_tablet="500″ author="Adela Leon, Salinas CA"]
I really liked taking this online course because it was easy and convenient to my schedule. Instead of sitting in a boring class, I was able to take it from the convenience of my own home! All the material was easy to read and learn from. I recommend this online course.
[/et_pb_testimonial][et_pb_code _builder_version="3.21.4″ z_index_tablet="500″]